VETTER Fairing
Replacement Windshields
These windshields are replacement windshields for Vetter fairings made in the 1970-80's and Kawasaki fairings.
Windjammer windshields
See the frequently asked questions and measurements below. If you're not sure, send us an email (upper right corner of this page).
Frequently Asked Questions (FAQ) about Vetter Fairings
Will a Vetter fairing fit my motorcycle? Yes, a Vetter fairing will fit almost any motorcycle. The trick is finding the mounting bracket for your bike. If you need a mounting bracket, email us with your bikes YEAR/MAKE/MODEL & Model LETTER (if you're bike is newer than 1985 you will need to find a metal fabricator to make a custom mounting bracket). The Vetter company sold out their business in the early 1980's.
I am not sure if I have a Vetter fairing. Will your windshield fit my fairing? Check to see the mounting hole measurements here.
Are the Vetter fairings made out of fiberglass? All vetter fairings are made of ABS plastic and will not shatter, dent or rust but they can crack. Hotcha repair kits are used for this kind of repair.
Which models do these windshields fit? All windshields for the Vetter Windjammer fairings, fit all Windjammer II, III, IV, V & SS models, Vindicator and the classic Kawasaki fairings.
Will the Lowers fit my Windjammer SS? All Lowers will fit each model above, except the Windjammer V model.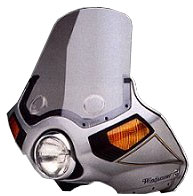 with vents
Make your Vetter fairing look like new again and see the difference!
21" & 23" are measured from bottom to top from the center of the windshield.
No modifications required
Windshields are made from shatter-resistant, aerodynamic acrylic
Meets or exceeds DOT specifications
All windshields for the Vetter Windjammer fairings, fits Windjammer II, III, IV, V, SS, Vindicator & the 1970s - early 1980s Kawasaki fairing models.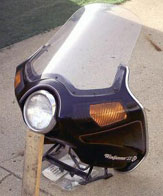 without vents
Windshield foam gasket and edge trim sold separately.
New Windshields


Vetter Windjammer Windshield 23" (23 inches tall) without vents (photo)
Add to Cart $139.99

Tall Clear Fairing Replacement Windshield. Tallest height windshield replacement for Kawasaki, Windjammer II, III, IV, V, SS & Vindicator fairings. The chrome trim shown is not included or available in photo.
---


Vetter Windjammer Windshield 21" (21 inches tall, original height) without vents (photo)
Add to Cart $134.99

Clear Fairing Replacement Windshield. Stock 21 inches in height Kawasaki, Windjammer II, III, IV, V, SS & Vindicator fairings.
---


Original Vetter Windjammer Windshield Screw Kit with Clips Add to Cart $24.99

This kit includes: All original bolts, nuts, washers and two metal clips as used on all Vetter and Kawasaki fairings. Beginning in 1978, all Windjammers used replacement windshields utilizing (2) black metal clips at the top instead of two upper bolts. These clips prevented the windshield from cracking at this point from road vibrations. Note: using steel bolts, washers and nuts can damage the windshield. Can also be used on other fairing windshields like, Kawasaki and Vindicator. Some of these older windshields do not utilize the metal clips but should be used to prevent damage to the upper mounts. With the metal clips used you may also install a CycleSound stereo system here. In stock.

OEM Vetter Windjammer Parts

12v | Decals | Foam | Harness | Lowers | Mount | Radio |

Repair | Screw Kit | Trim | Trunk | Turn | Vent



Used Motorcycle Fairings
Kawasaki
QuickSilver
Vetter Windjammer II, III, IV, V, SS
Windshield FAQ's
Q: What are the exact mounting hole measurements of the Windjammer windshield you sell?

A: From center to center of each hole in inches, on the Windjammer windshield:
22 - 3/8" (Top or widest measurement) 567mm
17 - 3/16" (434mm)
10 - 5/32" (Bottom or narrowest measurement) See PHOTO below for a better description. The red line indicates the 21" or 23" height of the windshield.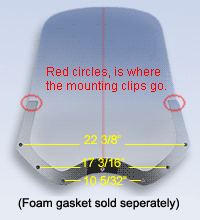 If your mounting holes are different than the photo above, this windshield will not fit your fairing. We added this photo so you'll know exactly what you have purchased. The chrome trim you see in the photo above, is sold separately but not available from us.
Q: Your replacement windshields for the Vetter fairing advertise all necessary hardware with clips. Is it possible to order just the clips?
A: Yes but they come with the nylon screws, nuts and are now available including the 2 metal clips. The two metal clips have the steel bolts including the rubber caps.
Q: Will your windshields fit a KUTTER fairing?
A: Yes and no ... If you have a fairing that looks like this (PHOTO), our windshields will not fit. The fairing here has the same mounting hole positions as a Kutter fairing. This (PHOTO), was to compare our windshield to see if it would fit a Kutter fairing. It would fit but most of the mounting holes did not line up.
Note: We do not carry nor can we find any parts or windshields for KUTTER fairings. The Windjammer windscreen will fit but you'll need to drill four new holes for mounting and plug or seal the remaining holes that do not line up with silicon or rubber plugs.